Easy Drivers Ed in Kingsburg
Are you a Kingsburg high school student with a heavy school load? Or maybe you are super busy with school clubs, athletics, or after school activities? If so, then you probably don't have a lot of extra time to drive back and forth to some out or the way drivers ed class somewhere in the San Joaquin Valley. Why not take your drivers ed class from home, when you want to? Our Low Cost course is as simple as can be: you sign up online, take the course online, and login and logout whenever and wherever you choose. Join students in Kingsburg High School who already know that Drivers Ed Direct is the fun, easy way to earn your learner's permit.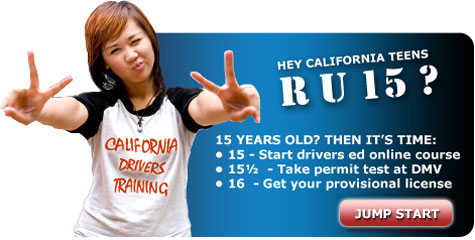 Driver Safety Resources from Drivers Ed Direct
Drivers Ed Direct isn't just about getting your money and then pushing you out onto the San Joaquin Valley roads to fend for yourself. We genuinely want you to become a great driver. In addition to our Low Cost drivers ed, we equip our students with other tools and resources to make their driving lives easier. Our live support is available to help you answer any driving questions, our website is filled with supplementary driving articles, teen safety resources, and even some games geared towards teaching you to park. See for yourself why we are rated so well by third party sites like the Fresno County, CA Better Business Bureau and by independent reviews from Yelp.com in Kingsburg.
California DMV Approved Drivers Ed Course
When taking drivers education in Kingsburg, CA, you want to be sure that the course you select is approved by the California Department of Motor Vehicles. When you successfully complete a course approved by the CADMV, you earn an official drivers education completion certificate. You will need this completion certificate when you go to the Kingsburg DMV to take your written permit test. The Drivers Ed Direct Low Cost drivers education course is not only DMV approved, it goes above and beyond DMV requirements to make sure that your son or daughter not only passes the DMV test, but that they also gain the knowledge necessary to become a safe and responsible driver.

Kingsburg High School Drivers Education Requirements
The Drivers Ed Direct Low Cost drivers ed course can be taken by any teen in Kingsburg, Selma, Parlier, Reedley, Dinuba, Sanger, Hanford, Orange Cove, Visalia, Lemoore, Fresno, Clovis, Tulare, Farmersville, Exeter, and Corcoran who is about to turn 15½ (the minimum age that you may take your permit test at the Kingsburg DMV). We recommend starting our DMV Approved drivers ed course sometime around your 15th birthday; that way you will be ready to go to the DMV when you turn 15½ and earn your learner's permit. Our course has been reviewed thoroughly by the Department of Motor Vehicles headquarters in Sacramento, CA and is approved for any age-eligible teens in the state looking to fulfill the drivers education requirement. So whether you are home schooled or attend Kingsburg High School, you can enroll in our course.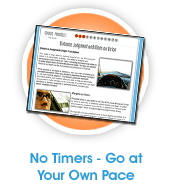 Why Drivers Education on the Web?
Here are some compelling reasons students in the San Joaquin Valley should take their drivers ed course online versus sitting in a boring classroom:
Online classes allow you to stay at your Kingsburg home
Online classes are more flexible and can be worked around your schedule
Our Low Cost driver ed class is highly affordable
A DMV study concluded that internet courses better prepare students than classroom courses for their permit exam
Our online program is continually updated and always fresh with recent driving information
Driver's Education Guide for Kingsburg Teenagers
The Low Cost Drivers Ed Direct course is simple to register for, simple to take, and simple to complete. We are committed to helping you every step of the way and give you the guidance you need to proceed to the DMV. Here is how our online program works, beginning to end:
Enroll in out Low Cost drivers ed, it takes just a few minutes
Read each section; at the end of each section there is a short multiple choice exam
When finished with the program sections, there is a comprehensive final exam that you will have multiple attempts to pass; once you pass the final, we send you your drivers ed completion certificate
Take our simulated sample permit tests before you go to the Kingsburg DMV to take your test
Go to the DMV (age 15½ minimum) and take your written permit test!
---
Not Going to High School in the San Joaquin Valley?
Our Drivers Education course has been approved by the California Department of Motor Vehicles for any age-appropriate teen meeting today's driver licensing requirements. Whether you are from Kingsburg, somewhere else in Fresno County, or anywhere in the San Joaquin Valley; you can complete our courses online to meet your driver's ed requirement. Not from a the San Joaquin Valley high school like Kingsburg High School? Not a problem, we have classes for soon-to-be teen drivers across all of California: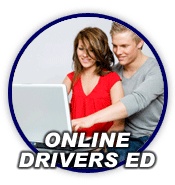 Dismissing Kingsburg Court Tickets
It happens. You're driving down a road in Kingsburg and you lose track of your speedometer. You look in your review mirror and the unwelcome sight of sirens is flashing and a Fresno County sheriff is beckoning you to pull over. 15 minutes later you are on your way with a traffic ticket in hand and your driving record ruined, right? Not necessarily! A single traffic ticket doesn't have to be the end of your status as a good driver. By completing the TrafficSchool.com online defensive driving course, you can actually have the ticket dismissed from your record and your insurance company will never know you were cited... meaning your insurance rates will never increase!
Driving Resources for Kingsburg Drivers

Did you know all of the things that can be accomplished right from the comfort of your own home in Kingsburg? If you were ticketed in Fresno County, you can take traffic school online without having to go to a class or court. If you go to Kingsburg High School and need your learner permit, you can take drivers ed online. Need DMV forms? Why wait in line at the Kingsburg DMV when you can down many forms over the internet. Do all this and more at DrivingLinks.com.