Pittsburg Drivers Education
Pittsburg Drivers Education is a convenient way for teens to meet their requirements to earn their driving permit. Teens who live in Contra Costa County can take the course that is schedule-friendly. There is no need for them to rearrange their schedule for this course. It is available 24/7 and can be worked on in between their other activities.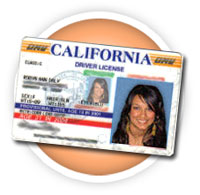 How Old Do I have to Be to Take Drivers Ed in California?
If you are at least 15½ years of age, can pass a vision exam, and have completed drivers education, you will be eligible to take a provisional permit test at the DMV in Pittsburg. To fulfill the drivers ed requirement, you must complete a DMV approved course to earn a certificate of completion. You can start this course at any age, but remember you can not take the permit exam until you turn 15½. In Contra Costa County, most students begin drivers ed when they are 15 years old or older.
Nice and Easy Drivers Education for Pittsburg Teenagers
Skip the boring class and fulfill your Pittsburg drivers ed requirement with a computer instead with Drivers Ed Direct's 100% online course. Our Educational course is hands down the best course when it comes to ease of use and flexibility. Since our program is totally online, you can literally do it from anywhere, at anytime. Furthermore, you can log-on and log-off at anytime as you go through our course and we'll save your progress. So stay home, kick back, and learn the rules of the road from your Contra Costa County home.

Driver Safety Resources from Drivers Ed Direct
Learning to drive is one of the most important milestones in any Pittsburg teen's life. Just ask one of the hundreds of students from Pittsburg Senior High School, School of Saint Peter Martyr or Christian Center School. Some eagerly anticipate getting their license, while other Contra Costa County teens are scared to get on the road. At Drivers Ed Direct, we cater to all teens by providing our students with all of the tools they need to be a success when they start driving alone. Our Educational drivers education program teaches them the rules of the road and our online articles, blogs, and mentoring programs provide another important layer of insight into the world of driving. Well rounded drivers with the confidence they need to navigate our California roads safely and responsibly. That's what we're all about, from Pittsburg to Bay Point, Antioch, Clayton, Concord, Oakley, Pleasant Hill, Brentwood, Walnut Creek, Martinez, Alamo, Benicia, Danville, Lafayette, Suisun City, and Fairfield.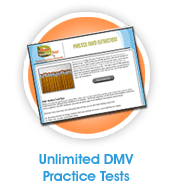 Free DMV Practice Tests
Passing your permit test at the Pittsburg DMV is easy when you choose Drivers Ed Direct as your driving school. First of all, our Educational drivers ed course will thoroughly prepare you with the knowledge you need to master the rules of the road. In addition to our online course, we also provide students with example DMV practice tests. Take as many sample tests as you want with our practice permit test generator. Finally, reading your CADMV handbook will even further prepare you to succeed come test day. Practice tests are available for all students in Contra Costa County, including teens at Pittsburg Senior High School, School of Saint Peter Martyr or Christian Center School.
How To Fulfill the Drivers Ed Requisite in Pittsburg
It's amazing how may teens and parents in Pittsburg come to us, confused about the driver's licensing process in Contra Costa County. It's really a simple process once the steps are clearly laid out. Here are the general steps one should take to earn a license in the San Francisco Bay Area:
Sign up for our Educational drivers education class sometime before you turn 15½
Pass our online program to earn a completion certificate for the Pittsburg DMV
Take and pass your test at the DMV to earn your learner permit
Take lessons with a local Pittsburg driving school and practice for 6 months with your permit
After 6 months of practice and when you are at least 16, go the DMV to pass your driving test.
Pass your drive test and go home with your provisional license
---
Pittsburg High School Driving Resources Online

Unlike several years ago, today's driver can accomplish a lot of routine DMV related tasks from home without having to drive to the physical Pittsburg DMV office. Changing your address, ordering tags, downloading DMV applications, and scheduling appointments can all be done with a few clicks and key strokes. Checkout DrivingLinks.com today to see how the internet is making your life easier when it comes to driving.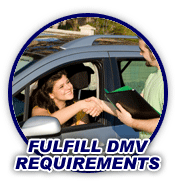 Contra Costa County Tickets
Being a perfect driver can be challenging, and even the most careful driver is susceptible to the dreaded traffic ticket. In the even that you are cited for speeding in Pittsburg or pulled over for running a red light in the San Francisco Bay Area, TrafficSchool.com can help ease your pain. Sure, no one wants to go to traffic school, but if you have to go to traffic school (and you will want to, in order to avoid having the ticket go on your DMV driving record), TrafficSchool.com makes it as easy as possible by offering everything online and making the material easy to understand and the final exam easy to pass. Check out their Contra Costa County Approved trafficschool class today!
Not Living in Pittsburg or in the San Francisco Bay Area?
Learning to drive in California is finally convenient for everyone, no matter where you live. Whether living in a larger city like Pittsburg, or in a smaller city somewhere outside of the San Francisco Bay Area, high school students from any city in CA can easily fulfill their driver education requirement from the comfort of their own home. Our Educational course is approved by the Department of Motor Vehicles and can be taken by any teen, regardless of where they live in California.