At Drivers Ed Direct, we are proud of the transformation we have brought to the drivers education industry. Since 2005 we have been changing the way people view drivers ed by using state-of-art web-based programs to help students obtain their learner's permit and drivers license. We also offer superior behind-the-wheel training for the greater Los Angeles area, along with providing assistance to parents in the continued education of their teen's safe driving practices.
Need driver's education?

Then look no further. Currently Drivers Ed Direct offers approved courses in California, Colorado, Florida, Georgia, Nevada, Oklahoma, Texas, and Virginia. Our online drivers ed course is completed at your own pace and on your own time. You take the course on your schedule with our log in and out anytime feature. Our Internet driving lessons include current information on safe driving techniques and comprehensive material that will interest and educate students on the responsibilities of driving a car. Drivers Ed Direct also offers other U.S. drivers additional products and online programs to supplement driver education.
Need in-car training?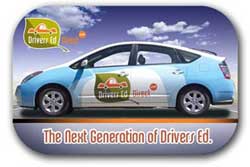 Drivers Ed Direct is a California DMV licensed driving school that provides state-of-the-art drivers training for teens and adults in the Greater Los Angeles area. We teamed up with a California state certified defensive driving trainer to make our curriculum one of the most up-to-date and well-done programs around. The primary goal of this program is not only to teach the basics of learning how to drive, but more importantly, we will emphasize safe driving habits such as the importance of defensive driving and collision avoidance.
Looking for something more?
Drivers Ed Direct also provides a large variety of products and pages to give parents and teens fundamental tools for learning safe driving behaviors. From parent-taught drivers ed video aids to articles and games to engage students while they learn.
Drivers Ed Direct takes pride in working with school communities by setting up custom fundraising programs. With Drivers Ed Direct's fundraising project, students have access to superior driver's education while raising money for their school or academic organization.