Why Drivers Ed Online?
A California DMV study concluded that students taking online or computer based drivers ed actually out perform students taking drivers ed in a traditional classroom setting when comparing exit exam scores. The advantages of an online drivers ed course are obvious:
Today's San Fernando Valley students naturally gravitate towards technology driven teaching methods, like the Internet
Online classes allow students the ability to start and stop as their attention span changes, whereas in traditional driving school classrooms, students tend to zone out or sleep when they become bored
Driver education online is more affordable for obvious reasons: low overhead, no books, no money spent on gas, etc.
Online drivers ed is more convenient because you can do it right from your San Fernando Valley home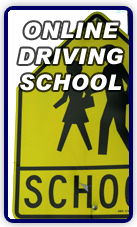 How To Complete the Drivers Education Requirement in San Fernando Valley
The Low Cost Drivers Ed Direct course is simple to register for, simple to take, and simple to complete. We are committed to helping you every step of the way and give you the guidance you need to proceed to the DMV. Here is how our online program works, beginning to end:
Enroll in out Low Cost drivers ed, it takes just a few minutes
Read each section; at the end of each section there is a short multiple choice exam
When finished with the program sections, there is a comprehensive final exam that you will have multiple attempts to pass; once you pass the final, we send you your drivers ed completion certificate
Take our simulated sample permit tests before you go to the San Fernando Valley DMV to take your test
Go to the DMV (age 15½ minimum) and take your written permit test!
Free Practice Exams for the CA DMV Permit Test
If you live in Southern California and you are about to turn 16, there's no doubt that you are excited to earn your drivers license. Before you can earn your license, you must first earn a learner's permit by passing a written test at a Los Angeles County, California DMV. At DriversEdDirect.com, we offer our students all of the tools they need to succeed on their permit test. In addition to our state-of-the-art drivers ed class, we also provide unlimited DMV sample tests to our students at no additional charge. These example practice tests for your permit are the added advantage San Fernando Valley teens need to pass their driving permit test on the first try.

More than Just Drivers Ed
At Drivers Ed Direct, we believe drivers education doesn't end the day you get your license. The truth is, the first 500 miles that a San Fernando Valley teen drives by themselves are the most dangerous miles they will ever drive in their lives. Teens will still need guidance from their parents and their driving school many months after they earn their driving privilege. Parents and teens can take advantage of the many resources available at Drivers Ed Direct designed to keep our students throughout Southern California, past and present, informed and up to date with current driving laws and issues. We are committed to ensuring the well-being of future driving adults from San Fernando Senior High School or Vaughn Next Century Learning Center.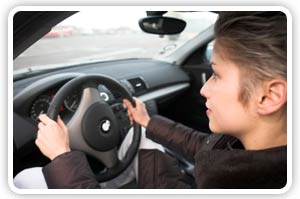 Drivers Ed Direct: A Driving School With Everything You Need
When you choose Drivers Ed Direct, you choose the San Fernando Valley driving school that delivers everything you could ask for from a DMV licensed driving school:
Quality, professional instructors with great attitudes
Lessons taught in cars and SUVs with added safety protection
A driving school that is DMV licensed, Bonded, and Insured
Front door pick up and drop off service
Over 200 driving shifts to choose from each week
Our Driving School Instructors
We know that you want to feel good about leaving your son or daughter in our care for their 2 hour driving lesson. At Drivers Ed Direct, we take hiring our driving instructors very seriously. We only consider driving school candidates that have prior experience working with kids. In addition, all potential employees have to pass a drug screening and a thorough department of justice background check. Also, each driving instructor must earn their DMV instructors license from the California DMV and completes 60+ hours of training from our in-house training program. Simply put, we only hire the best instructors and have over 25 qualified male and female instructors for you to choose from. You won't find a better driving school anywhere in San Fernando Valley.
---
Moving Outside of Southern California?
It does not matter where you live in CA, our Low Cost drivers education curriculum is approved by the Los Angeles County DMV and all other California DMV's throughout the state. Any student from North California to Southern California, from the West Coast to the Inland Empire, from Central California and beyond can take our online drivers education course to fulfill their teen driver's education component and to earn the official DMV certificate needed to earn a provisional driving permit.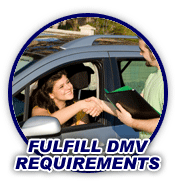 Los Angeles County Teens: Find Everything Driving Related Online

Unlike several years ago, today's driver can accomplish a lot of routine DMV related tasks from home without having to drive to the physical San Fernando Valley DMV office. Changing your address, ordering tags, downloading DMV applications, and scheduling appointments can all be done with a few clicks and key strokes. Checkout DrivingLinks.com today to see how the internet is making your life easier when it comes to driving.
Los Angeles County Traffic School
Pulled over in Los Angeles County for speeding? Don't pay your ticket without going to traffic school first! TrafficSchool.com, Southern California's leading traffic school, can help you save your driving record by eliminating the negligent operator points from your driving record. So give TrafficSchool.com a try and avoid any costly increases in your auto insurance premiums.