Who Qualifies for Drivers Education in LA County?
Our West Hills DMV approved drivers education program is approved for all of LA County, no matter if you are a private school student, public school student, or home school student. Students will be able to earn a driving permit at age fifteen and six months (15½), so taking and completing your drivers ed course prior to your 15½ birthday is highly recommended.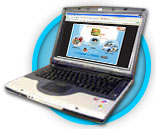 Practice DMV Tests - Online and Unlimited
Free DMV practice tests! Just another perk from Drivers Ed Direct when you take our Fun drivers education course. Use our practice test simulator to help better prepare you for your big permit test day at the West Hills DMV. Our practice tests are multiple choice and include questions almost identical to the real permit test questions.
Fun Drivers Ed in West Hills
Skip the boring class and fulfill your West Hills drivers ed requirement with a computer instead with Drivers Ed Direct's 100% online course. Our Fun course is hands down the best course when it comes to ease of use and flexibility. Since our program is totally online, you can literally do it from anywhere, at anytime. Furthermore, you can log-on and log-off at anytime as you go through our course and we'll save your progress. So stay home, kick back, and learn the rules of the road from your LA County home.

Lowest Priced Drivers Ed in West Hills
Do you love high quality, highly educational drivers education? Do you like getting the best product while getting a great deal? Then our Fun drivers education class is exactly what you are looking for. For students in West Hills, use driving school coupon go65 and save yourself another $5 off of our already low-priced online course. Now you can get the best DMV approved drivers ed available in LA County without making a dent in your wallet!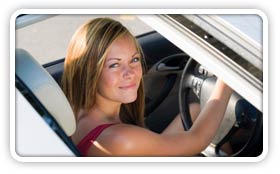 Driving Instruction from the Best
We know that you want to feel good about leaving your son or daughter in our care for their 2 hour driving lesson. At Drivers Ed Direct, we take hiring our driving instructors very seriously. We only consider driving school candidates that have prior experience working with kids. In addition, all potential employees have to pass a drug screening and a thorough department of justice background check. Also, each driving instructor must earn their DMV instructors license from the California DMV and completes 60+ hours of training from our in-house training program. Simply put, we only hire the best instructors and have over 25 qualified male and female instructors for you to choose from. You won't find a better driving school anywhere in West Hills.
Fulfill Your West Hills Drivers Training Requirement
Let us give you the confidence you need when you are navigating the streets in West Hills and throughout the San Fernando Valley. We will teach you all of the basics, starting with what all of the controls within your car are used for. We will also prepare you with driving basics, such as how to drive in the residential neighborhoods. In addition, we will take you on busy streets so you can practice lane changes, complex turns, and defensive driving. Want to learn how to ? We can help you with that too. When it comes to choosing the best driving school in West Hills, Drivers Ed Direct is the favorite of teens at Chaminade College Preparatory High School, New Community Jewish High School or West Valley Christian School.
---
Not Attending West Hills High School?
Our Drivers Education course has been approved by the California Department of Motor Vehicles for any age-appropriate teen meeting today's driver licensing requirements. Whether you are from West Hills, somewhere else in LA County, or anywhere in the San Fernando Valley; you can complete our courses online to meet your driver's ed requirement. Not from a the San Fernando Valley high school like Chaminade College Preparatory High School, New Community Jewish High School or West Valley Christian School? Not a problem, we have classes for soon-to-be teen drivers across all of California: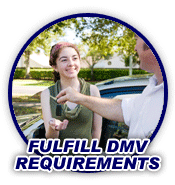 Dismissing LA County Court Tickets
Did you get ticketed in West Hills? For most moving violations cited in LA County, eligible drivers can have the citation dismissed and keep the negligent operator point from appearing on their California Driving Record. TrafficSchool.com, the leading online traffic school provider in the San Fernando Valley, has easy, educational, and LA County Court approved traffic school classes that you can take from the comfort of your own home. Visit TrafficSchool.com to learn more about their affordable internet classes and to read hundreds of testimonials from satisfied customers throughout California.
Online West Hills DMV Help and Other Driving Resources

Drivers in LA County looking for quality driving related resources need to visit DrivingLinks.com. Browse a wide variety of resources for every motorist, from beginner to expert. Check out what DMV's are located in the San Fernando Valley and download forms from home instead of driving to your local West Hills DMV.