North Hollywood, CA Drivers Ed Eligibility Requirements
If you are at least 15½ years of age, can pass a vision exam, and have completed drivers education, you will be eligible to take a provisional permit test at the DMV in North Hollywood. To fulfill the drivers ed requirement, you must complete a DMV approved course to earn a certificate of completion. You can start this course at any age, but remember you can not take the permit exam until you turn 15½. In LA County, most students begin drivers ed when they are 15 years old or older.

DMV Approved Drivers Ed for North Hollywood High School Students
Searching for an approved drivers education course in North Hollywood is a good starting point for any teen looking to earn their California driver's license. If students do not take a CA DMV Approved drivers ed program, they will not be allowed to earn their learner permit when they go to the North Hollywood DMV to take their written test. Our Inexpensive drivers ed is the ideal solution for any age appropriate high school student (at least 15½) within LA County.
Inexpensive Drivers Ed in North Hollywood
You're a busy North Hollywood teen, right? You've got school, sports, clubs, and a hundred other things taking up your time. The last thing you want to do is spend four 8-hour Saturdays locked in a stuffy traffic school classroom somewhere half way across LA County. Wouldn't you rather get a better quality education without leaving home? Join the other students at East Valley Senior High School, North Hollywood Senior High School, Oakwood School, Summit View School, Dubnoff Center for Child Development or San Fernando Valley Professional School who have already discovered the fastest, easiest, most convenient way to earn their driver's education certificate. Take your drivers ed online with the San Fernando Valley leader in driving school services: Drivers Ed Direct!

Why Drivers Education on the Web?
You have two choices when enrolling in drivers education in North Hollywood, CA: taking drivers ed online or attending a 30-hr classroom course. Obviously, the easiest way to get your learner's permit is with online drivers education. What a lot of people don't know, however, is that online drivers ed also prepares student better, according to a 2003 DMV study. It's no wonder the DMV's study came to such a conclusion. Online driver education comes loaded with interactive lessons, free practice tests, and the ability go at your own pace with unlimited logins. If you live anywhere in LA County and attend East Valley Senior High School, North Hollywood Senior High School, Oakwood School, Summit View School, Dubnoff Center for Child Development or San Fernando Valley Professional School, then online drivers education is the wise choice for fulfilling your North Hollywood, California Department of Motor Vehicles Requirement.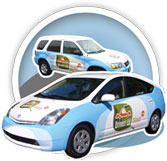 North Hollywood Drivers Training Lessons
If you want to learn , Drivers Ed Direct can accommodate you. With a coverage area of the San Fernando Valley, highly qualified instructors and an excellent reputation, we look forward to servicing your special requests. We offer lessons in our well-maintained Toyota Prius' and Ford Escape SUVs with instructors in the North Hollywood area. Questions? Feel free to contact our office and our friendly customer service staff will be happy to assist you.
Drivers Ed Direct - Driving School Advantages
Drivers Ed Direct, servicing North Hollywood, takes pride in providing the materials your teenager needs to successfully pass the California DMV Drive Test. In addition to the information provided by our highly skilled instructors, your teen will be able to login to our website and review vital information to help pass the test in the San Fernando Valley. In addition, you and your teen can contact our office and speak to a customer service professional with questions on products and services we have to offer. If your teen was referred to us by East Valley Senior High School, North Hollywood Senior High School, Oakwood School, Summit View School, Dubnoff Center for Child Development or San Fernando Valley Professional School athletic team or club, let us know. You may qualify for a special discount.
---
Not From North Hollywood?
Not a resident of North Hollywood? Or maybe you are planning of moving outside of LA County soon and don't want to start drivers ed because you're concerned you'll have to do it all over again when you move into you're new home in another city. With Drivers Ed Direct, you get a drivers ed course that is approved across the entire state of California, so even if you change residences or move across county lines, you won't have to worry about your drivers ed course being lost. Since we're 100% online, you can pick up online from your new home without any down time or loss of course credit. We are the most convenient drivers education provider in the San Fernando Valley and beyond!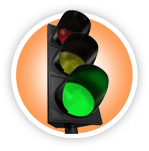 Dismissing North Hollywood Court Tickets
Don't let a traffic citation ruin your day or your driving record. Drivers cited for a one-point moving violation in LA County can attend an 8-hour traffic school to have their violation effectively removed from their official driving record. With TrafficSchool.com, the best traffic school in North Hollywood, you can complete your 8-hour traffic school requirement right from home without having to attend a boring traffic school or a painful to endure comedy traffic school.
LA County High School Driving Resources and Information Online

Looking for more than just drivers education? At DrivingLinks.com, residents of the San Fernando Valley can find a lot of helpful driving information. Things you can accomplish online include downloading California DMV forms, registering for traffic school for your North Hollywood traffic ticket, reading the latest driving laws, and more. Their website is free to browse and will save LA County drivers save time and money!