How Drivers Ed Works in the State of California
Taking drivers ed online with Drivers Ed Direct is the easy, fun, and educational way to fulfill your drivers education requirement in Encino. Here's what you need to do:
Go online and sign up in minutes for our Easy drivers ed course.
Read educational online lessons filled with interactive tutorials
Pass our online final exam from the comfort of your Encino home - you have many attempts to pass!
When you pass, your completion certificate ships to your home in Encino.
Take your drivers ed certificate, along with other DMV paperwork (we'll list them out for you) to the closest LA County DMV.
Pass your written permit test at the DMV and you go home with your permit that day (p.s. - this is when they take your picture for the license, so look sharp!)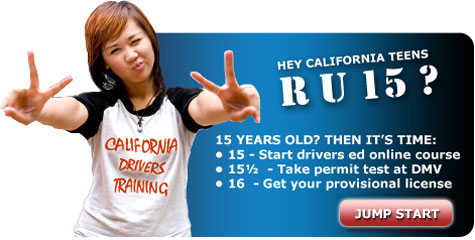 Affordable Drivers Ed in LA County
We feel that first class driving school classes should be available to everyone, regardless of their financial situation. After all, wouldn't the roads be a safer place is everyone out there had the best drivers education available? Now students in Birmingham High School, Reseda High School, Sherman Oaks Center for Enriched Studies, Crespi Carmelite High School, Holy Martyrs Elementary & Ferrahian High School or Westmark School can get the best drivers ed for less when they go to Drivers Ed Direct for their driver's ed requirement. Our online, CA DMV approved course is the best in the business and, for a low low price, students everywhere in LA County can now afford the best.
Get Great Drivers Ed and More!
Tired of the same old Encino driving schools you have to choose from? Well be tired no more, Drivers Ed Direct is here! Make the switch to the favorite driving school of high schools everywhere, including Birmingham High School, Reseda High School, Sherman Oaks Center for Enriched Studies, Crespi Carmelite High School, Holy Martyrs Elementary & Ferrahian High School or Westmark School. Our Easy drivers ed is just simply better: we have an interactive course, free sample DMV tests, drunk driving awareness programs, downloadable DMV forms, and parking games. Why settle for the bare minimum when you can have it all, without overpaying for it? No matter where you live in Lake Balboa, Tarzana, Canoga Park, Northridge, Sherman Oaks, and Woodland Hills, you won't find a better driving school in LA County.
Encino Classroom Drivers Education vs. Online Drivers Ed
The days of taking drivers ed in a Encino High School classroom are all but extinct. For teens in the 21st century, drivers education is mostly conducted in a privatized classroom or by a DMV Approved course provider. In 2003, the DMV conducted a study and came to the conclusion that students taking online drivers education courses actually scored higher on their course exit exams than students learning the same information in a traditional drivers education classroom setting. These findings are not surprising; the average teen in the San Fernando Valley gravitates toward online mediums and are more captivated and interested in technology. Rather than tuning out in a boring traditional classroom setting, teens taking classes online are captivated by interactive tutorials that allow them to go at their own pace and to logout when they become tired.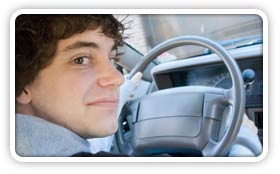 Highly Trained, Professional Driving Instructors
With over 60 hours of driving instruction training, an extensive background check and previous experience working with young people, our driving school instructors are trusted individuals who care about the quality of drivers training they pass on to their students. In addition, they are friendly and teach with a mentor approach that puts each student at ease during each lesson. Students can with any of our highly qualified instructors. If a student is taking their drive test at Encino DMV, they can request that their instructor go over the drive test information.
Drivers Ed Direct: A Driving School With Everything You Need
Don't settle for second best when choosing between all of the driving schools in Encino. Drivers Ed Direct has a proven track record and is the fastest growing driving school in the San Fernando Valley, here are the reasons why parents and Encino HS teens love us:
Over 25 qualified male and female instructors
You can choose to learn in a car or SUV
We teach lessons 7 days a week
The best customer service in LA County
You can schedule online or over the phone
We will pick you up and drop you off anywhere in Encino
---
Learn To Drive Anywhere the San Fernando Valley or Beyond!
Our Drivers Education course has been approved by the California Department of Motor Vehicles for any age-appropriate teen meeting today's driver licensing requirements. Whether you are from Encino, somewhere else in LA County, or anywhere in the San Fernando Valley; you can complete our courses online to meet your driver's ed requirement. Not from a the San Fernando Valley high school like Birmingham High School, Reseda High School, Sherman Oaks Center for Enriched Studies, Crespi Carmelite High School, Holy Martyrs Elementary & Ferrahian High School or Westmark School? Not a problem, we have classes for soon-to-be teen drivers across all of California: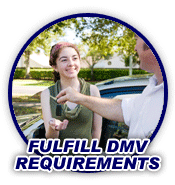 Preserving Your Driving Record in the San Fernando Valley
Were you driving a little too fast on a LA County highway and got caught by a Encino police officer? Don't ignore your citation and let your driving record suffer. By completing a LA County approved traffic school course with TrafficSchool.com, you can have most moving violations removed from your driving records, helping you to keep your insurance rates from rising and your license from being suspended.
Driving Resources for Encino High School Teens

Find a comprehensive collection of driving links and resources designed to make the driving life of the San Fernando Valley residents easier and more efficient. Hop online to choose a traffic school for your LA County ticket or find a driving school in Encino for your teen. You can also download DMV forms, play driving flash games, and read articles related to driving.