Internet Drivers Ed - Approved For all of Castaic
Choosing a Internet drivers ed course in Castaic can be tough given the amount of "Driving Schools" offering courses online. Don't be fooled by a low-quality start-up company that offers prices to good to be true. Chances are that they either don't have their own drivers ed course or that their course is not DMV approved for LA County students. If the latter is true, then you will not be able to obtain a driving permit using their course. Drivers Ed Direct only offers a one-of-a-kind, CADMV Approved, online drivers ed program. See why we're the preferred choice in over 100 high schools, including Santa Clarita Grace Academy, Trinity Classical Academy or Rio Norte Junior Senior High School.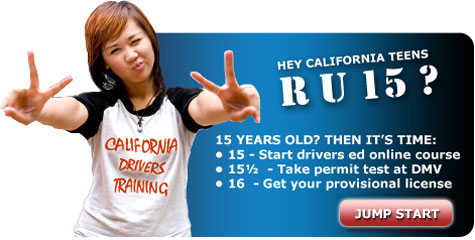 Lowest Priced Drivers Ed in Castaic
Internet drivers education can be highly educational without costing an arm and a leg. Our online course will save you money in many ways:
You won't have to drive back and forth to a classroom somewhere in LA County
Our course is 100% online; there are no books or video to buy
We have low overhead so we can charge you a low low price; we will even price match any other DMV approved course in the Conejo Valley!
Our course doesn't expire, so you never have to worry about paying twice for the same course
.
Now you see why our high quality, lowest priced drivers ed course is the preferred course for students at Santa Clarita Grace Academy, Trinity Classical Academy or Rio Norte Junior Senior High School.
Internet Drivers Ed: Step By Step
Learning to drive can be challenging, but the process it takes to earn a driver license shouldn't be so complicated. If you are nearing your 16th birthday and live in LA County, these are the steps it takes to become a legally licensed driver in the state of California:
Complete CA DMV approved drivers education (such as our Internet drivers ed program)
Pass a written exam at a local DMV in the Conejo Valley to earn a practice permit
Complete drivers training with a DMV licensed driving school in LA County
Pass your road exam at the DMV to earn a provisional drivers license.

Free Practice Written DMV Permit Tests
Want to pass your learner permit test the first time? When you take the Drivers Ed Direct Internet drivers education course, you also get free access to Castaic DMV practice tests. Each practice permit test is generated randomly from our pool of over 200 possible permit test questions and, just like the DMV permit test, our practice tests are multiple choice. Take as many practice tests as you want for free until you feel you are truly ready to pass the written test at the DMV. Our practice tests will help you prepare for any DMV in Castaic, Saugus, Santa Clarita, Stevenson Ranch, Fillmore, and Valencia.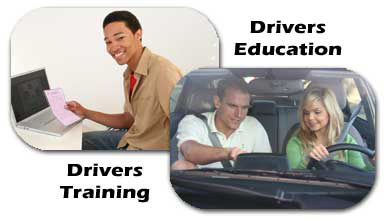 Patient, Friendly, and Experienced Driving Instructors
We know that you want to feel good about leaving your son or daughter in our care for their 2 hour driving lesson. At Drivers Ed Direct, we take hiring our driving instructors very seriously. We only consider driving school candidates that have prior experience working with kids. In addition, all potential employees have to pass a drug screening and a thorough department of justice background check. Also, each driving instructor must earn their DMV instructors license from the California DMV and completes 60+ hours of training from our in-house training program. Simply put, we only hire the best instructors and have over 25 qualified male and female instructors for you to choose from. You won't find a better driving school anywhere in Castaic.
Fulfill Your Castaic Drivers Training Requirement
Drivers Ed Direct is not your average Castaic DMV Licensed Driving School. We teach all of the driving basics like turning, parking, lane changing and learning how to , but we also offer courses for advanced driving techniques as well. Our 6-hour program will teach you all of the basics and meets the minimum time requirements for earning a license in LA County. Our 10-hour and 20-hour programs cover all of the basics and also teach advanced skills like defensive driving, accident avoidance, and DMV test preparation.
---
Not Going to High School in Castaic?
Our driving school course online is the most convenient course in the entire state of California. Whether you change high schools or move from Castaic to somewhere in Saugus, Santa Clarita, Stevenson Ranch, Fillmore, and Valencia, our Internet drivers ed class is approved statewide, so you can rest assured that our course will still be approved for you. Whether you are home schooled, go to high school in Santa Clarita Grace Academy, Trinity Classical Academy or Rio Norte Junior Senior High School, or are already done with high school, teens can use our course worry free, knowing they are taking a CA-DMV Approved class.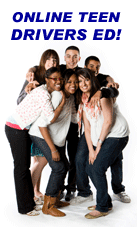 Driving Resources for Castaic Drivers

Did you know all of the things that can be accomplished right from the comfort of your own home in Castaic? If you were ticketed in LA County, you can take traffic school online without having to go to a class or court. If you go to Santa Clarita Grace Academy, Trinity Classical Academy or Rio Norte Junior Senior High School and need your learner permit, you can take drivers ed online. Need DMV forms? Why wait in line at the Castaic DMV when you can down many forms over the internet. Do all this and more at DrivingLinks.com.
Traffic Ticket Class for the Conejo Valley
Are you an adult driver in Castaic that got ticketed for speeding, making an illegal turn, or committing another minor traffic violation? For most counties in California, our partner TrafficSchool.com can help you dismiss your ticket and keep the points off your record. In addition, an online traffic school can help you brush up on the driving laws learned while attending driving school in LA County.