More than Just Drivers Ed
You get more that just Quality drivers ed at DriversEdDirect.com. Our Calabasas students can also access tools and resources designed to make them as prepared as possible when facing the challenges they will encounter on the road. Our Respect Reality program is a Teen Safety Awareness program designed to education teens in LA County about dangers like distracted driving and drunk driving. We also have parking simulation games that help Calabasas teens learn how to park. Get it all at Drivers Ed Direct!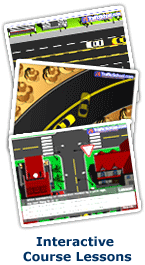 Quality Drivers Education in Calabasas
Why take a break from the traditional drivers ed classroom? Because no LA County teen wants to spend 30 hours in a dark, packed classroom listening to Billy Bob lecturing about road rules and watching driving school videos from 1970. With Drivers Ed Direct's Quality driving school program, you are allowed to take your drivers education course when you want to and where you want to. If you can get online in Calabasas, then you can complete our course with ease. All chapters are informational, engaging, and well organized. You're in total control and can complete the course at your own pace, login and out when you choose.
California DMV Approved Drivers Ed Course
Searching for an approved drivers education course in Calabasas is a good starting point for any teen looking to earn their California driver's license. If students do not take a CA DMV Approved drivers ed program, they will not be allowed to earn their learner permit when they go to the Calabasas DMV to take their written test. Our Quality drivers ed is the ideal solution for any age appropriate high school student (at least 15½) within LA County.
Practice Permit Exams Online
Trying to find sample driver's license tests online? Looking for examples of the DMV permit test? Drivers Ed Direct gives Calabasas teens access to a wide variety of practice tests for free when they register for our Quality drivers education course. No matter where you live in West Hills, Agoura, Malibu, Canoga Park and Hidden Hills, you can take our example quizzes from anywhere. Since we offer an unlimited amount of tests, you can keep practicing for the real exam as many times as you need!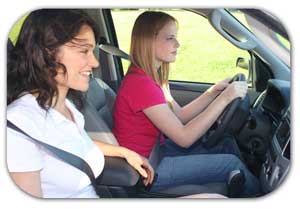 Learn to Drive From the Best Instructors
Some students and parents do not have a preference on the gender of their instructor. However, with our DMV licensed driving school, we have both male and female instructors. With our highly qualified driving instructors, you can feel confident knowing that each student is gaining driving knowledge, regardless of the gender of the instructor. However, if you're more comfortable with one gender instead of the other, no problem. Just let our customer service professionals know which you prefer and we'll accommodate you. We offer both genders throughout Calabasas, West Hills, Agoura, Malibu, Canoga Park and Hidden Hills and are capable of teaching if required.
Choosing the Best Driving School in California
Searching for a high quality driving school can be quite a task. However, if you live in LA County, Drivers Ed Direct is just what you are looking for. Our Calabasas instructors are highly skilled and our customer service representatives are friendly and helpful. You will find helpful driving tools on our website, however you don't have to stop there. You can contact our office and our staff will be happy to help you. We understand that driving can be an exciting experience for a teen and a very nervous experience for the parent, so we want to be available to you whenever possible. Check us out if you're located in Calabasas.
---
More Driving Help for Drivers in Calabasas

Visit DrivingLinks.com online to find DMV information specific to your state. You can also find other online driving resources like Calabasas traffic school classes, driving laws, driving statistics, and links to free driving games.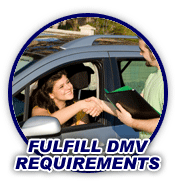 Not Going to High School in the San Fernando Valley?
No matter where you will be driving in California, Drivers Ed Direct has the perfect drivers ed for you. Our Quality course is approved for every city in West Hills, Agoura, Malibu, Canoga Park and Hidden Hills and every high school, even those not found in the Calabasas area. In fact, no matter where you live in California, we have a course that will help you successfully earn your permit and drivers license.
LA County Tickets
Being a perfect driver can be challenging, and even the most careful driver is susceptible to the dreaded traffic ticket. In the even that you are cited for speeding in Calabasas or pulled over for running a red light in the San Fernando Valley, TrafficSchool.com can help ease your pain. Sure, no one wants to go to traffic school, but if you have to go to traffic school (and you will want to, in order to avoid having the ticket go on your DMV driving record), TrafficSchool.com makes it as easy as possible by offering everything online and making the material easy to understand and the final exam easy to pass. Check out their LA County Approved trafficschool class today!