Completing the Driver's Ed Requirement in Stanislaus County
Fulfilling your CA DMV requirements in Stanislaus County doesn't have to complicated and confusing. With our online Drivers Ed Course, the process is quite simple really. All you need to do in order to earn a learners permit is the following:
Sign up for our Home Schooled program online
Complete the entire program online, including out multiple choice final exam
Walk in to the Modesto DMV and take a written permit test
If you successfully pass your exam, you will earn your learner's permit.
A DMV clerk will take your photo for your eventual license and send you on your way.

How Old Do I have to Be to Take Drivers Ed in California?
Who is eligible for Home Schooled drivers ed? Any teen living in Stanislaus County, California. That's right, no matter where you live in the San Joaquin Valley, you can take our course. If you go to high school in Joseph Gregori High School, Arachway Academy, Fred C. Beyer High School, Grace M Davis High School, James C. Enochs High School, Peterson Johansen High School, Thomas Downey High School, Valley Charter High School, Big Valley Christian, Calvary Christian School, Calvary Temple, Central Catholic High School, Modesto Christian School or Wood Colony Christian School, you are eligible. If you are a home school or home study student in Modesto, you can take our online course. Live in nearby cities like Ceres, Riverbank, Ripon, Oakdale, Turlock, Patterson, Manteca, Lathrop, Livingston, Tracy, Garden Acres, Stockton, Atwater, Country Club, and Merced? You can also take our internet drivers ed course to fulfill your California DMV driver education requirement.
Stanislaus County Driver's Education
Stanislaus County Drivers Education is a convenient way for teens to meet their requirements to earn their driving permit. Teens who live in Stanislaus County can take the course that is schedule-friendly. There is no need for them to rearrange their schedule for this course. It is available 24/7 and can be worked on in between their other activities.
Driver Safety Resources from Drivers Ed Direct
Traditional Modesto driving schools have earned a reputation of having boring classes, minimal instruction, and a short-lived relationship with their driving students. Not Drivers Ed Direct. We aim to be the San Joaquin Valley's top driving school by offering Home Schooled driver education along with a lifetime of driving school resources to our students. We know that our students will still be learning to drive each and every day and we want to be there for them as they go along in their driving lives. We do this by offering ongoing driving resources, fostering safe driving programs, and keeping an open line of communication with students past and present through outlets like our e-news letters and Facebook.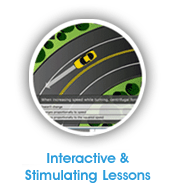 Practice Permit Exams Online
Want to pass your learner permit test the first time? When you take the Drivers Ed Direct Home Schooled drivers education course, you also get free access to Modesto DMV practice tests. Each practice permit test is generated randomly from our pool of over 200 possible permit test questions and, just like the DMV permit test, our practice tests are multiple choice. Take as many practice tests as you want for free until you feel you are truly ready to pass the written test at the DMV. Our practice tests will help you prepare for any DMV in Modesto, Ceres, Riverbank, Ripon, Oakdale, Turlock, Patterson, Manteca, Lathrop, Livingston, Tracy, Garden Acres, Stockton, Atwater, Country Club, and Merced.
Home Schooled Drivers Ed in Modesto
Drivers education online with Drivers Ed Direct is easy to access, easy to understand, and easy to complete around your ever-changing schedule. In fact, Modesto teens can sign-up for our course online, take all of the drivers education lessons online, and complete our final exam online. When you are finished, we will mail an official drivers education certificate to your home in Modesto. So skip the hassle of driving to and from class; with drivers ed online, you can access the course when you have the time, from anywhere you can get online. No wonder Drivers Ed Direct is one of the fastest growing driving schools in the San Joaquin Valley!
---
Not Attending Modesto High School?
Learning to drive in California is finally convenient for everyone, no matter where you live. Whether living in a larger city like Modesto, or in a smaller city somewhere outside of the San Joaquin Valley, high school students from any city in CA can easily fulfill their driver education requirement from the comfort of their own home. Our Home Schooled course is approved by the Department of Motor Vehicles and can be taken by any teen, regardless of where they live in California.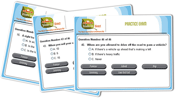 Modesto Traffic Tickets
Don't let a traffic citation ruin your day or your driving record. Drivers cited for a one-point moving violation in Stanislaus County can attend an 8-hour traffic school to have their violation effectively removed from their official driving record. With TrafficSchool.com, the best traffic school in Modesto, you can complete your 8-hour traffic school requirement right from home without having to attend a boring traffic school or a painful to endure comedy traffic school.
Stanislaus County High School Driving Resources and Information Online

DrivingLinks.com is a great resource when you need anything related to driving. Whether you are looking for used cars in Modesto, insurance quotes in Stanislaus County, traffic school in the San Joaquin Valley, or driving safety information for California, Florida, or any other state, DrivingLinks.com has you covered.