What Do I Need To Do?
Not sure how to earn a driver's license? No matter where you live in Riverside County, from Temecula to Murrieta, Fallbrook, Wildomar, Canyon Lake, Sun City, Lake Elsinore, Hemet, Perris, East Hemet, Vista, San Jacinto, San Marcos, Oceanside, Carlsbad, and Escondido, the process is the same for all teenagers in the state of CA:
Enroll in our CA drivers education class (100% online)
Complete drivers ed to earn a DMV certificate
Go to the DMV and pass a written permit test
Complete your drivers training requirement (driving school lessons and practice with parents)
Pass a driving test at a qualified DMV in Riverside County
.
If you are a student at Chaparral High School, Great Oak High School, River Springs Charter, Temecula Valley High School or Linfield Christian School, then you can earn your permit at 15½ and a driver's license when you turn 16 (if all DMV requirements have been met).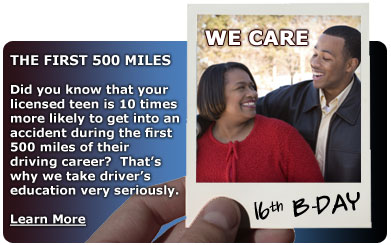 California DMV Approved Drivers Ed Course
Before paying for any drivers ed program, whether it be online or in a classroom, make sure the course you are registering for is approved by the Riverside County DMV. Any legitimate school should be able to show you their DMV approval letter that verifies that their CA course will actually earn you the completion certificate you need to obtain a learner's permit. You can view Drivers Ed Direct's DMV Approval letter here: Temecula, CA DMV Approval Letter
CA Drivers Education in Temecula
When it comes to convenience and simplicity, no other driving school can compete with Drivers Ed Direct's CA drivers education course. Our program is the 100% online solution for busy Riverside County teens who want the flexibility of completing their Temecula DMV requirements according to their own schedule. Besides being easy to access, our course is also easy to use for any student, whether or not they are computer literate. Each chapter is laid out in an easy to follow manner and interactive tutorials make it easy to avoid boredom. It's the easiest drivers ed in the Inland Empire!

Am I Eligible for Online Drivers Ed?
Who is eligible to take our CA driver education curriculum? Any teen living in California that wants to earn a learners permit and driver license. Technically, Temecula teens cannot earn a permit until they turn fifteen and a half, so it makes most sense to wait until you are at least 15 before beginning our online course.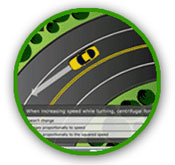 CA Drivers Ed and a Whole Lot More
Get more than just your average driver education experience when you select Drivers Ed Direct as your Temecula driving school. Browse our website for free resources that other driving school in the Inland Empire just don't offer. We have an ongoing and update drivers education article database, online driving games, free DMV practice exams, web videos, and engaging programs like our highly touted Respect Reality Driving Campaign for Riverside County Teens. See what the buzz is about and why we're not just another run-of-the-mill driving school.
Why Drivers Education on the Web?
A California DMV study concluded that students taking online or computer based drivers ed actually out perform students taking drivers ed in a traditional classroom setting when comparing exit exam scores. The advantages of an online drivers ed course are obvious:
Today's Temecula students naturally gravitate towards technology driven teaching methods, like the Internet
Online classes allow students the ability to start and stop as their attention span changes, whereas in traditional driving school classrooms, students tend to zone out or sleep when they become bored
Driver education online is more affordable for obvious reasons: low overhead, no books, no money spent on gas, etc.
Online drivers ed is more convenient because you can do it right from your Temecula home
---
Driving Resources for Temecula Drivers

No matter if you are a new driver or a seasoned road warrior, DrivingLinks.com has the resources you need to make life on the road just a little bit easier. Learn traffic safety laws, enroll in Riverside County defensive driving classes, play interactive driving games, locate the Temecula DMV, and download DMV forms... get it all online without having to leave your home.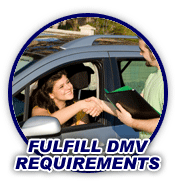 Need Drivers Ed, But Not a resident of the Inland Empire?
Looking for the leading driving school in Temecula, Murrieta, Fallbrook, Wildomar, Canyon Lake, Sun City, Lake Elsinore, Hemet, Perris, East Hemet, Vista, San Jacinto, San Marcos, Oceanside, Carlsbad, and Escondido? Look no further! DriversEdDirect.com is your complete CA solution for fulfilling your drivers ed requirement. Even if you don't live in Riverside County, our drivers education is the best there is. The truth is, our online driver's education program is approved for all of California. No matter what county or city you call home, we can help you earn your practice permit the easy, online way.
Caught Speeding in the Inland Empire?
Online traffic school is an excellent option for Temecula motorists looking for an inexpensive, Riverside County Approved, and highly convenient way to dismiss a traffic citation. TrafficSchool.com has been helping drivers throughout the Inland Empire, in cities like Murrieta, Fallbrook, Wildomar, Canyon Lake, Sun City, Lake Elsinore, Hemet, Perris, East Hemet, Vista, San Jacinto, San Marcos, Oceanside, Carlsbad, and Escondido, dismiss traffic citation points for over 15 years! Choose the trusted leader in online traffic school and ensure that your driving record is kept in good order.