Am I Eligible for Online Drivers Ed?
Who is eligible to take our Local driver education curriculum? Any teen living in California that wants to earn a learners permit and driver license. Technically, Mariposa teens cannot earn a permit until they turn fifteen and a half, so it makes most sense to wait until you are at least 15 before beginning our online course.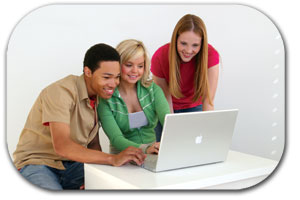 Get Great Drivers Ed and More!
Drivers Ed Direct delivers much more than your average driving school in Mariposa. Besides providing Mariposa HS teens with an amazing drivers education experience, we also do our part to make our students the most informed and responsible drivers they can be. We sponsor teen safety awareness program (like our original Respect Reality Pledge for Change), publish articles and news letters with driving law updates, and strive to remain "driving partners" with our students long after they graduate by constantly updating our Driving School Facebook page with driving tips and news. We promise, we offer more than just another Local driving school class... much more!
Mariposa County Drivers Ed
Local Drivers Ed is the online solution for teens who are seeking a way to complete the requirement, but not have to attend a classroom course. A teen who attends Mariposa County High School, Mariposa County Independent Learning or Victory Baptist Christian School or lives in Mariposa is eligible to take our course. If parents are worried that a teacher will not be in attendance during the online experience, parents or teens can call the customer service center when they need help. We have live representatives, waiting to assist you.

Easy to Understand Drivers Education for Mariposa Students
Mariposa County Teens can complete their California drivers education requirement with Local Online Drivers Education. If you participate in after school activities with Mariposa County High School, Mariposa County Independent Learning or Victory Baptist Christian School, our course will work well with your schedule because it's available all of the time. Login anytime and when you've completed as much as you want to, log off and your place will be saved.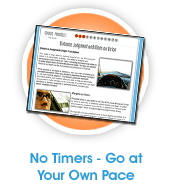 Low Price Drivers Education in Mariposa County
Looking for low priced teen traffic school in Mariposa? Look no further! At Drivers Ed Direct, our prices can't be beat. Are course is already low priced because it is online and doesn't require extra overhead like classrooms and books. Not to mention that we will gladly price match with any other online course that is also Mariposa DMV Approved!
Free Practice Multiple Choice DMV Tests
Nervous about your upcoming permit test at your local Mariposa DMV office? Don't be! If you choose Drivers Ed Direct as your driving school (like hundreds of other teens in Mariposa County already have), you will be well prepared to succeed on your written exam. Reading your driving handbook and completing our Local drivers ed class will prepare you well, but taking our sample CADMV practice tests online will give you even more test-day confidence. Take as many practice tests as you want, we don't mind and we won't charge you a penny extra! Guess that's why students at Mariposa County High School, Mariposa County Independent Learning or Victory Baptist Christian School absolutely love our California licensed driving school.
---
Preserving Your Driving Record in Central California
Don't let a traffic citation ruin your day or your driving record. Drivers cited for a one-point moving violation in Mariposa County can attend an 8-hour traffic school to have their violation effectively removed from their official driving record. With TrafficSchool.com, the best traffic school in Mariposa, you can complete your 8-hour traffic school requirement right from home without having to attend a boring traffic school or a painful to endure comedy traffic school.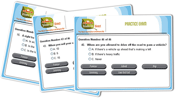 Not From Mariposa?
No matter where you will be driving in California, Drivers Ed Direct has the perfect drivers ed for you. Our Local course is approved for every city in Chowchilla, Merced, Atwater, Madera, Livingston, Clovis, Turlock, Oakdale, Fresno, Kerman, Ceres, Mendota, Riverbank, Los Banos, and Modesto and every high school, even those not found in the Mariposa area. In fact, no matter where you live in California, we have a course that will help you successfully earn your permit and drivers license.
Driving Resources for Mariposa Motorists

DrivingLinks.com is a great resource when you need anything related to driving. Whether you are looking for used cars in Mariposa, insurance quotes in Mariposa County, traffic school in Central California, or driving safety information for California, Florida, or any other state, DrivingLinks.com has you covered.