Learn how to for less!
We feel that first class driving school classes should be available to everyone, regardless of their financial situation. After all, wouldn't the roads be a safer place is everyone out there had the best drivers education available? Now students in Liberty High School, Furman High, Madera High North, Madera South High School, Pioneer Technical Center, Ripperdan High School or Madera Christian School can get the best drivers ed for less when they go to Drivers Ed Direct for their driver's ed requirement. Our online, CA DMV approved course is the best in the business and, for a low low price, students everywhere in Madera County can now afford the best.

Internet Drivers Ed
Madera Drivers Education is best way to complete drivers education without having to attend a classroom course. If the teenager attends Liberty High School, Furman High, Madera High North, Madera South High School, Pioneer Technical Center, Ripperdan High School or Madera Christian School or lives in Madera County, then our course will fulfill their requirement for drivers education. The course is self-paced and can be worked on anytime the teen's schedule permits. If the teen needs to take a break, no problem. The teen can log off of the program and their place will be saved. Once they return to the course, the teen will pick-up where they left off.
How To Fulfill the Drivers Ed Requisite in Madera
The DMV has set forth a set of rules and procedures designed to make new drivers educated and road ready before they start driving on our public roadways. The graduated drivers license program has helped thousands of teens in the San Joaquin Valley become a relatively safer group of drivers than teens just 20 years ago. In order to earn a license, teens must successfully complete the following:
Complete drivers education
Pass a written road rules test at the CA DMV
Take drivers training (in-car driving lessons)
Practice 50 hours minimum with their parents
Pass a driving examination at the DMV
Drivers Ed Direct, a licensed driving school in Madera and all of California, has the Internet drivers ed class that can help you satisfy your drivers education requirement in full.

DMV Approved Drivers Ed for Madera High School Students
Before paying for any drivers ed program, whether it be online or in a classroom, make sure the course you are registering for is approved by the Madera County DMV. Any legitimate school should be able to show you their DMV approval letter that verifies that their Internet course will actually earn you the completion certificate you need to obtain a learner's permit. You can view Drivers Ed Direct's DMV Approval letter here: Madera, CA DMV Approval Letter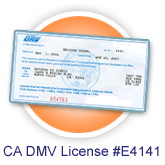 Free Practice Multiple Choice DMV Tests
Free DMV practice tests! Just another perk from Drivers Ed Direct when you take our Internet drivers education course. Use our practice test simulator to help better prepare you for your big permit test day at the Madera DMV. Our practice tests are multiple choice and include questions almost identical to the real permit test questions.
Madera Teen Driver Resources
At Drivers Ed Direct, we believe drivers education doesn't end the day you get your license. The truth is, the first 500 miles that a Madera teen drives by themselves are the most dangerous miles they will ever drive in their lives. Teens will still need guidance from their parents and their driving school many months after they earn their driving privilege. Parents and teens can take advantage of the many resources available at Drivers Ed Direct designed to keep our students throughout the San Joaquin Valley, past and present, informed and up to date with current driving laws and issues. We are committed to ensuring the well-being of future driving adults from Liberty High School, Furman High, Madera High North, Madera South High School, Pioneer Technical Center, Ripperdan High School or Madera Christian School.
---
the San Joaquin Valley Traffic Tickets
Did you get ticketed in Madera? For most moving violations cited in Madera County, eligible drivers can have the citation dismissed and keep the negligent operator point from appearing on their California Driving Record. TrafficSchool.com, the leading online traffic school provider in the San Joaquin Valley, has easy, educational, and Madera County Court approved traffic school classes that you can take from the comfort of your own home. Visit TrafficSchool.com to learn more about their affordable internet classes and to read hundreds of testimonials from satisfied customers throughout California.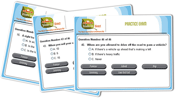 Driving Links for Madera HS Students

Visit DrivingLinks.com online to find DMV information specific to your state. You can also find other online driving resources like Madera traffic school classes, driving laws, driving statistics, and links to free driving games.
Not Going to High School in Madera?
Drivers Ed Direct is not only the top driving school in the San Joaquin Valley, we are a highly respected driving school across all of California and have even garnered national media attention on such shows as The Tonight Show, Dr. Phil, Jimmy Kimmel, and NBC news. No matter where you live in the state of California, you can enroll in our Internet drivers ed and know you are getting the same quality education as all of our students, even those living outside of Madera. Our goal is to save the world, one new driver at a time... including you!