Free Practice Multiple Choice DMV Tests
Trying to find sample driver's license tests online? Looking for examples of the DMV permit test? Drivers Ed Direct gives Bishop teens access to a wide variety of practice tests for free when they register for our On-line drivers education course. No matter where you live in Orange Cove, Sanger, Reedley, Dinuba, Clovis, Parlier, Exeter, Farmersville, Selma, Kingsburg, Visalia, Fresno, Lindsay, Tulare, and Madera, you can take our example quizzes from anywhere. Since we offer an unlimited amount of tests, you can keep practicing for the real exam as many times as you need!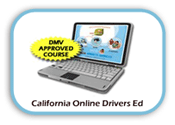 On-line Drivers Ed and a Whole Lot More
Traditional Bishop driving schools have earned a reputation of having boring classes, minimal instruction, and a short-lived relationship with their driving students. Not Drivers Ed Direct. We aim to be East Central California's top driving school by offering On-line driver education along with a lifetime of driving school resources to our students. We know that our students will still be learning to drive each and every day and we want to be there for them as they go along in their driving lives. We do this by offering ongoing driving resources, fostering safe driving programs, and keeping an open line of communication with students past and present through outlets like our e-news letters and Facebook.
On-line Drivers Ed
On-line Drivers Education offers an online drivers education course for California teens. If you live in Inyo County or in Orange Cove, Sanger, Reedley, Dinuba, Clovis, Parlier, Exeter, Farmersville, Selma, Kingsburg, Visalia, Fresno, Lindsay, Tulare, and Madera, your teen can receive quality online education with our program. In addition, parents can sit along side their teen and observe how the program runs. If a parent decides this is not the right program for their student, we have a 'Try it before you buy it' policy so parents can be at ease knowing that they do not have to pay for a program they feel does not suit their child. However, we believe our course is something both teen and parent will be happy with.

Inyo County Drivers Ed - Priced Low - No Coupons Needed!
Looking for low priced teen traffic school in Bishop? Look no further! At Drivers Ed Direct, our prices can't be beat. Are course is already low priced because it is online and doesn't require extra overhead like classrooms and books. Not to mention that we will gladly price match with any other online course that is also Bishop DMV Approved!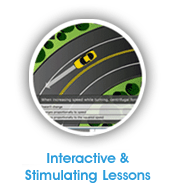 Department of Motor Vehicles Approved Drivers Education
The California Department of Motor Vehicles has specific guidelines in which a drivers education course needs to meet before it becomes a state approved agency. In addition to meeting the state's requirements, On-line Drivers Education makes taking drivers education convenient for all types of schedules. If you're an early bird or a night owl, you can login to the program anytime that is right for you. Anytime you need a break, go ahead and take one.
Online Drivers Education vs. Classroom Drivers Education
A California DMV study concluded that students taking online or computer based drivers ed actually out perform students taking drivers ed in a traditional classroom setting when comparing exit exam scores. The advantages of an online drivers ed course are obvious:
Today's Bishop students naturally gravitate towards technology driven teaching methods, like the Internet
Online classes allow students the ability to start and stop as their attention span changes, whereas in traditional driving school classrooms, students tend to zone out or sleep when they become bored
Driver education online is more affordable for obvious reasons: low overhead, no books, no money spent on gas, etc.
Online drivers ed is more convenient because you can do it right from your Bishop home
---
Bishop Traffic Tickets
Did you get ticketed in Bishop? For most moving violations cited in Inyo County, eligible drivers can have the citation dismissed and keep the negligent operator point from appearing on their California Driving Record. TrafficSchool.com, the leading online traffic school provider in East Central California, has easy, educational, and Inyo County Court approved traffic school classes that you can take from the comfort of your own home. Visit TrafficSchool.com to learn more about their affordable internet classes and to read hundreds of testimonials from satisfied customers throughout California.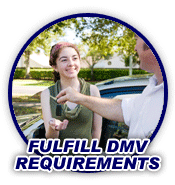 Driving Resources for Bishop Motorists

Find a comprehensive collection of driving links and resources designed to make the driving life of East Central California residents easier and more efficient. Hop online to choose a traffic school for your Inyo County ticket or find a driving school in Bishop for your teen. You can also download DMV forms, play driving flash games, and read articles related to driving.
Not From Bishop?
Our internet driver training program is California Department of Motor Vehicles approved for each and every city in the state. Whether you live in Inyo County, somewhere in East Central California, or in another part of the state all together - you can take our course! We've helped students at Bishop High School or Jill Kinmont Boothe obtain their learner permit, but we've also helped literally hundreds of thousands