Free Practice Written DMV Permit Tests
In addition to our outstanding, On-line drivers education program, we also offer our students practice DMV tests at no additional costs. Our sample DMV tests are different than the small set of example tests you can get from the Sylmar Department of Motor Vehicles or from the official Los Angeles County DMV website. Our practice test questions are made from our database of over 150 DMV test answers and questions. If you want to succeed on your DMV test the first time, come to Drivers Ed Direct: the best driving school in Southern California.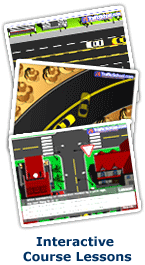 On-line Drivers Ed and a Whole Lot More
Traditional Sylmar driving schools have earned a reputation of having boring classes, minimal instruction, and a short-lived relationship with their driving students. Not Drivers Ed Direct. We aim to be Southern California's top driving school by offering On-line driver education along with a lifetime of driving school resources to our students. We know that our students will still be learning to drive each and every day and we want to be there for them as they go along in their driving lives. We do this by offering ongoing driving resources, fostering safe driving programs, and keeping an open line of communication with students past and present through outlets like our e-news letters and Facebook.
Sylmar Drivers Ed
Sylmar Driver Ed offers a web-based course that can be taken anywhere a teen has a laptop and internet access. The course is California DMV approved and completion certificates will be accepted by the DMV for teens to take their written test to receive their driving permit. Once their permit is received, it must be signed by a licensed or authorized driving instructor before they can use it. Our course is authorized for students who attend Sylmar High School, First Lutheran High School, Hathaway School or Los Angeles Lutheran High School or live in Los Angeles County.

Sylmar DMV Approved Drivers Ed
Get the best drivers education in Southern California from the leader in approved online drivers education: Drivers Ed Direct. Our 30-hour program is Sylmar DMV approved for all students in Los Angeles County. Get online at home, from a coffee shop, or from your school's computer lab. Now proudly teaching kids from Sylmar High School, First Lutheran High School, Hathaway School or Los Angeles Lutheran High School.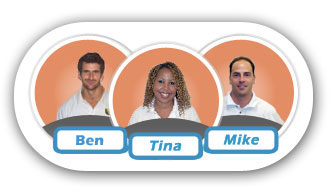 Our Driving School Instructors
Some students and parents do not have a preference on the gender of their instructor. However, with our DMV licensed driving school, we have both male and female instructors. With our highly qualified driving instructors, you can feel confident knowing that each student is gaining driving knowledge, regardless of the gender of the instructor. However, if you're more comfortable with one gender instead of the other, no problem. Just let our customer service professionals know which you prefer and we'll accommodate you. We offer both genders throughout Sylmar, San Fernando, Granada Hills, Pacoima, Arleta, Lake View Terrace, and Mission Hills and are capable of teaching if required.
Why We Are the Top Los Angeles County Driving School
Don't settle for second best when choosing between all of the driving schools in Sylmar. Drivers Ed Direct has a proven track record and is the fastest growing driving school in Southern California, here are the reasons why parents and Sylmar HS teens love us:
Over 25 qualified male and female instructors
You can choose to learn in a car or SUV
We teach lessons 7 days a week
The best customer service in Los Angeles County
You can schedule online or over the phone
We will pick you up and drop you off anywhere in Sylmar
---
Not Going to High School in Southern California?
Drivers Ed Direct is not only the top driving school in Southern California, we are a highly respected driving school across all of California and have even garnered national media attention on such shows as The Tonight Show, Dr. Phil, Jimmy Kimmel, and NBC news. No matter where you live in the state of California, you can enroll in our On-line drivers ed and know you are getting the same quality education as all of our students, even those living outside of Sylmar. Our goal is to save the world, one new driver at a time... including you!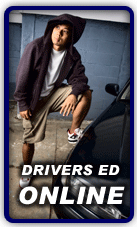 Sylmar Traffic School
It happens. You're driving down a road in Sylmar and you lose track of your speedometer. You look in your review mirror and the unwelcome sight of sirens is flashing and a Los Angeles County sheriff is beckoning you to pull over. 15 minutes later you are on your way with a traffic ticket in hand and your driving record ruined, right? Not necessarily! A single traffic ticket doesn't have to be the end of your status as a good driver. By completing the TrafficSchool.com online defensive driving course, you can actually have the ticket dismissed from your record and your insurance company will never know you were cited... meaning your insurance rates will never increase!
Driving Resources for Sylmar High School Teens

Did you know all of the things that can be accomplished right from the comfort of your own home in Sylmar? If you were ticketed in Los Angeles County, you can take traffic school online without having to go to a class or court. If you go to Sylmar High School, First Lutheran High School, Hathaway School or Los Angeles Lutheran High School and need your learner permit, you can take drivers ed online. Need DMV forms? Why wait in line at the Sylmar DMV when you can down many forms over the internet. Do all this and more at DrivingLinks.com.