Simple Drivers Ed in Stevenson Ranch
Online drivers education with Drivers Ed Direct is truly the easiest and most convenient way to fulfill your drivers education requirement in Los Angeles County. West Ranch High School students can schedule their course around their own hectic life and are allowed the ability to complete the course over multiple sittings. In addition, the Internet course itself is easy and straightforward. The lessons are well constructed, the tutorials help make sense of the concepts, and the quizzes are multiple choice. From beginning to end, we offer Stevenson Ranch teenagers the simple solution to earning a drivers education certificate.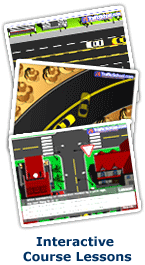 The Complete Drivers Education Experience
Drivers Ed Direct isn't just about getting your money and then pushing you out onto the Conejo Valley roads to fend for yourself. We genuinely want you to become a great driver. In addition to our Internet drivers ed, we equip our students with other tools and resources to make their driving lives easier. Our live support is available to help you answer any driving questions, our website is filled with supplementary driving articles, teen safety resources, and even some games geared towards teaching you to park. See for yourself why we are rated so well by third party sites like the Los Angeles County, CA Better Business Bureau and by independent reviews from Yelp.com in Stevenson Ranch.
Stevenson Ranch Drivers Ed
Stevenson Ranch Drivers Education is a convenient way for teens to meet their requirements to earn their driving permit. Teens who live in Los Angeles County can take the course that is schedule-friendly. There is no need for them to rearrange their schedule for this course. It is available 24/7 and can be worked on in between their other activities.

Stevenson Ranch Classroom Drivers Education vs. Online Drivers Ed
You have two choices when enrolling in drivers education in Stevenson Ranch, CA: taking drivers ed online or attending a 30-hr classroom course. Obviously, the easiest way to get your learner's permit is with online drivers education. What a lot of people don't know, however, is that online drivers ed also prepares student better, according to a 2003 DMV study. It's no wonder the DMV's study came to such a conclusion. Online driver education comes loaded with interactive lessons, free practice tests, and the ability go at your own pace with unlimited logins. If you live anywhere in Los Angeles County and attend West Ranch High School, then online drivers education is the wise choice for fulfilling your Stevenson Ranch, California Department of Motor Vehicles Requirement.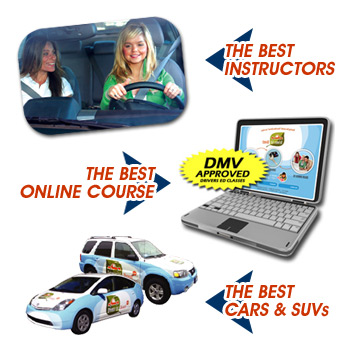 Choose Between a Male or Female Instructor
One advantage of the Drivers Ed Direct driving school is that we give you the opportunity to choose your instructor. With over 25 qualified and friendly, male and female instructors to choose from, you're sure to find more than a few that you like. With whatever you decide, all of our instructors are highly qualified to teach your teen the proper rules for driving in California. Your teen can learn how to drive in all types of situations and during different hours of the day or night in the Conejo Valley. Our aim is to make sure your needs are met and if you request to learn how to , we work towards getting that done along with everything else you need to know in order to drive.
Trusted Stevenson Ranch High School Drivers Training
Drivers Ed Direct is available for driving lessons throughout Los Angeles County, specifically in Stevenson Ranch, Valencia, Newhall, Santa Clarita, Saugus, and Castaic. From our in-house customer service team, to our scheduling department to our driving instructors, excellent customer service is a must because our customers are a priority. We want you to have a pleasant experience throughout your time with us. We offer driving lessons in the Conejo Valley and in most cases, we will pick up students from West Ranch High School. If you want the best Stevenson Ranch driving school, the best driver training vehicles, and the best behind the wheel instruction, give us a call today.
---
Driving Resources for Stevenson Ranch Motorists

Looking for more than just drivers education? At DrivingLinks.com, residents of the Conejo Valley can find a lot of helpful driving information. Things you can accomplish online include downloading California DMV forms, registering for traffic school for your Stevenson Ranch traffic ticket, reading the latest driving laws, and more. Their website is free to browse and will save Los Angeles County drivers save time and money!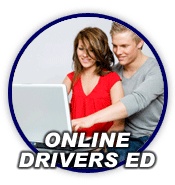 Stevenson Ranch Traffic School
Got a traffic ticket in Los Angeles County? Get it removed from your CA DMV driving record when you complete an approved traffic school course online at TrafficSchool.com. All lessons and final exam can be taken online and even get confirmation of the ticket dismissal from your DMV record. It's the smart way to go to traffic school in Stevenson Ranch.
Not Going to High School in the Conejo Valley?
Drivers Ed Direct is not only the top driving school in the Conejo Valley, we are a highly respected driving school across all of California and have even garnered national media attention on such shows as The Tonight Show, Dr. Phil, Jimmy Kimmel, and NBC news. No matter where you live in the state of California, you can enroll in our Internet drivers ed and know you are getting the same quality education as all of our students, even those living outside of Stevenson Ranch. Our goal is to save the world, one new driver at a time... including you!