Enhanced Vehicle Cleaning Procedures
We have always taken the cleanliness of our training vehicles seriously. Since 2005, we've maintained clean vehicles that are fully stocked with cleaning supplies, including disinfectant wipes and hand sanitizer. Today with guidance from health authorities and the CDC, we have significantly escalated the routine cleanings of our fleet, inside and out. Prior to, during, and after every lesson, our instructors will thoroughly clean all high-touch areas of our vehicles using EPA approved disinfectants. In front of our students, we will visibly wipe down the door handle, steering wheel, shifter, start engine button, turn signals controls, touch-screen, window/mirror/seat adjustment buttons, seatbelt and the rearview mirror.
Additionally, we have doubled our routine vehicle deep-cleaning procedures by having all vehicles washed inside and out by professionals multiple times per week, insuring the cleanest driving school fleet in the industry.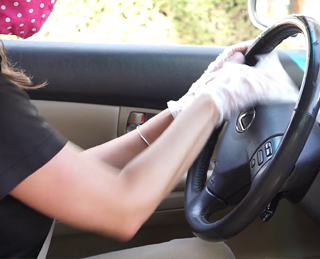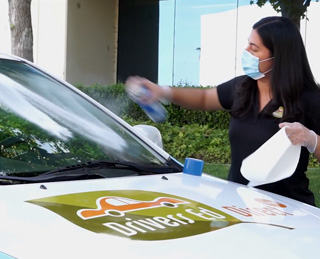 Required Instructor Testing & Health Precautions
Prior to returning to teach driving lessons, all instructors are tested for COVID-19. In addition, extensive instructor protocols have been put in place including pre-lesson screening questions, employee temperature checks before every shift, and mandated training programs on health and safety awareness. Instructors will wear a mask during every shift and will practice social distancing when possible. We demand that instructors stay at home if they have COVID-19 related symptoms or have come into contact with someone who has recently tested positive.
Mandatory Student Screenings & Masks
Facemasks will be worn by all students and instructors during lessons. If a student needs a facemask, we will provide a disposable one for them. Prior to every lesson, students will be asked our 3-point health questionnaire to determine if they have COVID-19 symptoms or have recently associated with someone who has been diagnosed with COVID-19. In addition, student temperatures will be taken with a Touchless Thermometer. If the student has COVID-19 symptoms or a temperate level of 100.4 degrees or higher, the lesson must be cancelled and rescheduled. As always, we ask all families to reschedule their lessons if a student is not feeling well. We will not charge lesson cancellation fees for any student feeling ill or presenting COVID-19 symptoms.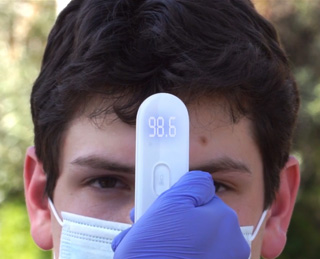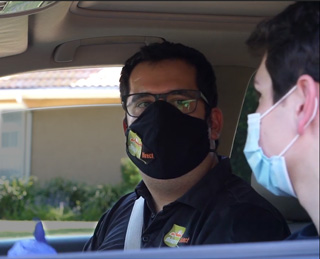 Elevated Driving Lesson Health Protocols
We will take extra steps to promote health and safety throughout the 2-hour period for each driving lesson. To promote better circulation of air, all lessons will be conducted with the windows cracked or rolled-down when possible. Instead of using the recirculated air option for the vehicle's ventilation during lessons, the car's vents will be utilized to bring in fresh outside air. During lessons, we will encourage students to take multiple 1-2 minute quick breaks as needed to exit the vehicle and remove face coverings (after distancing 6-feet apart), and just grab some fresh air. EPA approved sanitizer will be made readily available for both students and instructors to clean their hands throughout the lesson.
Incident Response Protocols
We are thoroughly dedicated to reducing the chance for germs to spread amongst our instructors, students, and vehicles. In the unfortunate event that an instructor or student tests positive for the virus, we will respond quickly and initiate the protocols that have been put in place to minimize the negative impact of such an incident. If an employee tests positive for COVID-19, they will be immediately taken off the schedule. No instructor will be allowed back to teaching until having received two negative COVID-19 tests in a row, at least 24 hours apart, and have received a doctor's authorization to return to work. Any vehicle possibly impacted by an infected student or instructor will be removed from service until an enhanced cleaning/disinfecting of the vehicle can be conducted by trained professionals wearing appropriate Personal Protective Equipment (PPE).