California DMV Express Experience
California DMV has created a simple express system that allows you to take your permit test. You can think of the new system as kind of a "front of the line" express pass to get your permit.
To take advantage of the DMV Same Day / Express Service Visit, go to the CA DMV REAL ID page to apply for a REAL ID driver's license (DL) for the first time online: https://realid.dmv.ca.gov/.
It may be confusing that you need to apply for a REAL ID DL when you are actually obtaining a permit, but the permit is the first step in the driver's license process, so the option to select is the "REAL ID DL". This opportunity provides for applicants to complete the creation of a DMV account online and the uploading of all of the documents needed (view list) and processed online.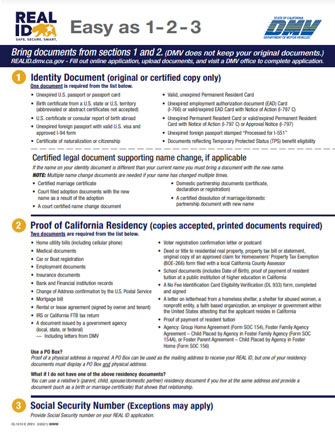 Follow the prompts to complete the application online and upload your documents. You'll have the opportunity to select the express service and a DMV of your choice. You must complete the application online and upload all documents required in order to fulfill the requirements for the express service visit.
At the end of the online steps, you'll receive an express service ticket, which contains a Stop Sign graphic and a confirmation code (view example). You will print the confirmation paper and bring it into the DMV for your same day "express" service.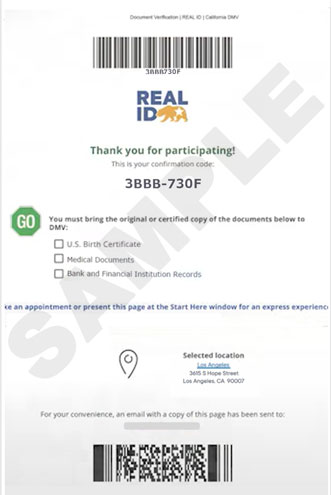 The DMV has stated the number of same day express service visits is limited each day per office so we highly recommend you go to the DMV as early in the day as possible. We have been told you should not go later than 2pm.
When you get to the DMV there will be a long line, but you don't have to wait in that line. With your express service visit information, you can go to the front of the DMV, to the appointment clerk, and show them your paper with the confirmation code and stop sign. Tell them you have an express service ticket and are there to get a REAL ID DL and take your permit test. There may be a brief wait, but you should be in and out in no time!