Educational Drivers Ed
Educational Drivers Ed is a great base for teens to begin their path for driving. Students from Valley Torah High School or live in Valley Village can take the California DMV approved course to prepare them for the written permit exam. With DMV practice tests and a California DMV Handbook (you can pick one up from your local DMV or visit their website for a PDF version), your teen will learn information that can be applied for their drive test as well.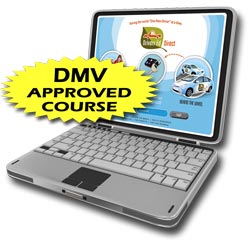 Affordable Drivers Education
Besides being an effective educational resource, our Educational driver safety course is also a desirable drivers education alternative because it doesn't cost as much as the traditional classroom drivers ed. Instead of commuting to and from some out of the way driving school classroom in LA County, stay right at your home in Valley Village and take our online driver's ed course for less. Besides saving with our already low-priced, discounted online course; you'll save gas money, commuting time, and won't have to worry about dealing with traffic hassles. It's no wonder Drivers Ed Direct is quickly becoming the leading choice for Valley Torah High School teens.
Nice and Easy Drivers Education for Valley Village Teenagers
You're a busy Valley Village teen, right? You've got school, sports, clubs, and a hundred other things taking up your time. The last thing you want to do is spend four 8-hour Saturdays locked in a stuffy traffic school classroom somewhere half way across LA County. Wouldn't you rather get a better quality education without leaving home? Join the other students at Valley Torah High School who have already discovered the fastest, easiest, most convenient way to earn their driver's education certificate. Take your drivers ed online with the San Fernando Valley leader in driving school services: Drivers Ed Direct!

CADMV Approved Drivers Education
Before paying for any drivers ed program, whether it be online or in a classroom, make sure the course you are registering for is approved by the LA County DMV. Any legitimate school should be able to show you their DMV approval letter that verifies that their Educational course will actually earn you the completion certificate you need to obtain a learner's permit. You can view Drivers Ed Direct's DMV Approval letter here: Valley Village, CA DMV Approval Letter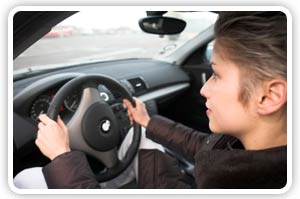 Learning to Drive in Valley Village
Let Drivers Ed Direct be your first choice when it comes to selecting a Valley Village driving school. We are well respected throughout the San Fernando Valley and have taught thousands of teens throughout Valley Village, Sherman Oaks, Van Nuys, Toluca Lake, Burbank, Panorama City, and Arleta how to drive. We teach every aspect of driving, from basics like parking, turning, and braking to more advanced skills like canyon driving, freeway driving, and defensive driving. If you want to learn how to and more, make Drivers Ed Direct your driving school!
Choosing the Best Driving School in California
Don't settle for second best when choosing between all of the driving schools in Valley Village. Drivers Ed Direct has a proven track record and is the fastest growing driving school in the San Fernando Valley, here are the reasons why parents and Valley Village HS teens love us:
Over 25 qualified male and female instructors
You can choose to learn in a car or SUV
We teach lessons 7 days a week
The best customer service in LA County
You can schedule online or over the phone
We will pick you up and drop you off anywhere in Valley Village
---
Valley Village Traffic School
Don't let a traffic citation ruin your day or your driving record. Drivers cited for a one-point moving violation in LA County can attend an 8-hour traffic school to have their violation effectively removed from their official driving record. With TrafficSchool.com, the best traffic school in Valley Village, you can complete your 8-hour traffic school requirement right from home without having to attend a boring traffic school or a painful to endure comedy traffic school.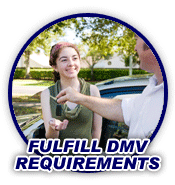 Not From the San Fernando Valley?
Our driving school course online is the most convenient course in the entire state of California. Whether you change high schools or move from Valley Village to somewhere in Sherman Oaks, Van Nuys, Toluca Lake, Burbank, Panorama City, and Arleta, our Educational drivers ed class is approved statewide, so you can rest assured that our course will still be approved for you. Whether you are home schooled, go to high school in Valley Torah High School, or are already done with high school, teens can use our course worry free, knowing they are taking a CA-DMV Approved class.
Driving Links for Valley Village HS Students

Looking for an online driving guide to help you navigate the roadways in LA County? DrivingLinks.com has a plethora of online resources for the Valley Village driver, both young and old. Teens can benefit from the online driving handbooks, drivers ed resources, and driving games. Mature drivers can find online traffic schools, defensive driving classes, and printable DMV forms. Get help with all things driving at DrivingLinks.com.