Drivers Education Eligibility Requirements for Topanga Teens
In California, teenagers must be 15½ before they can earn a learner's driving permit. With this said, it makes most sense for teens to begin their drivers education when they turn 15. This will give them ample time to familiarize themselves with the rules of the road, read the driver handbook, and take several practice DMV tests before going to your local Topanga DMV to take the written permit test. Our Easy driver education program is approved for any teen in LA County, whether you are home schooled or attend Canoga Park Senior High School, Trinity Lutheran High School, Chatsworth Senior High School, Faith Baptist School or Chaminade College Preparatory High School.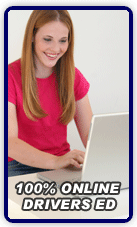 Easy Drivers Ed - Approved For all of Topanga
Get the best drivers education in Southern California from the leader in approved online drivers education: Drivers Ed Direct. Our 30-hour program is Topanga DMV approved for all students in LA County. Get online at home, from a coffee shop, or from your school's computer lab. Now proudly teaching kids from Canoga Park Senior High School, Trinity Lutheran High School, Chatsworth Senior High School, Faith Baptist School or Chaminade College Preparatory High School.
What Do I Need To Do?
The DMV has set forth a set of rules and procedures designed to make new drivers educated and road ready before they start driving on our public roadways. The graduated drivers license program has helped thousands of teens in Southern California become a relatively safer group of drivers than teens just 20 years ago. In order to earn a license, teens must successfully complete the following:
Complete drivers education
Pass a written road rules test at the CA DMV
Take drivers training (in-car driving lessons)
Practice 50 hours minimum with their parents
Pass a driving examination at the DMV
Drivers Ed Direct, a licensed driving school in Topanga and all of California, has the Easy drivers ed class that can help you satisfy your drivers education requirement in full.

Free DMV Practice Permit Tests
Want to pass your learner permit test the first time? When you take the Drivers Ed Direct Easy drivers education course, you also get free access to Topanga DMV practice tests. Each practice permit test is generated randomly from our pool of over 200 possible permit test questions and, just like the DMV permit test, our practice tests are multiple choice. Take as many practice tests as you want for free until you feel you are truly ready to pass the written test at the DMV. Our practice tests will help you prepare for any DMV in Topanga, Hidden Hills, Canoga Park, Woodland Hills, Calabasas, Malibu, and Tarzana.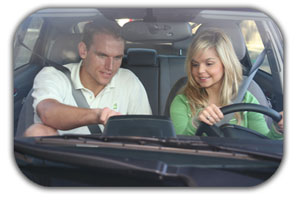 Our Driving School Instructors
With over 60 hours of driving instruction training, an extensive background check and previous experience working with young people, our driving school instructors are trusted individuals who care about the quality of drivers training they pass on to their students. In addition, they are friendly and teach with a mentor approach that puts each student at ease during each lesson. Students can with any of our highly qualified instructors. If a student is taking their drive test at Topanga DMV, they can request that their instructor go over the drive test information.
Student Driver Lessons in Topanga
Let Drivers Ed Direct be your first choice when it comes to selecting a Topanga driving school. We are well respected throughout Southern California and have taught thousands of teens throughout Topanga, Hidden Hills, Canoga Park, Woodland Hills, Calabasas, Malibu, and Tarzana how to drive. We teach every aspect of driving, from basics like parking, turning, and braking to more advanced skills like canyon driving, freeway driving, and defensive driving. If you want to learn how to and more, make Drivers Ed Direct your driving school!
---
More Driving Help for Drivers in Topanga

Find a comprehensive collection of driving links and resources designed to make the driving life of Southern California residents easier and more efficient. Hop online to choose a traffic school for your LA County ticket or find a driving school in Topanga for your teen. You can also download DMV forms, play driving flash games, and read articles related to driving.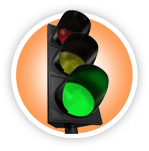 LA County Traffic School
Are you an adult driver in Topanga that got ticketed for speeding, making an illegal turn, or committing another minor traffic violation? For most counties in California, our partner TrafficSchool.com can help you dismiss your ticket and keep the points off your record. In addition, an online traffic school can help you brush up on the driving laws learned while attending driving school in LA County.
Not Going to High School in Topanga?
Drivers Ed Direct is not only the top driving school in Southern California, we are a highly respected driving school across all of California and have even garnered national media attention on such shows as The Tonight Show, Dr. Phil, Jimmy Kimmel, and NBC news. No matter where you live in the state of California, you can enroll in our Easy drivers ed and know you are getting the same quality education as all of our students, even those living outside of Topanga. Our goal is to save the world, one new driver at a time... including you!