Free Practice Written DMV Permit Tests
In addition to our outstanding, Low Cost drivers education program, we also offer our students practice DMV tests at no additional costs. Our sample DMV tests are different than the small set of example tests you can get from the Chatsworth Department of Motor Vehicles or from the official LA County DMV website. Our practice test questions are made from our database of over 150 DMV test answers and questions. If you want to succeed on your DMV test the first time, come to Drivers Ed Direct: the best driving school in the San Fernando Valley.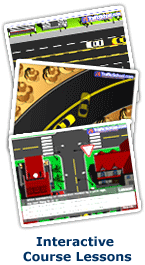 How Drivers Ed Works in the State of California
It's amazing how may teens and parents in Chatsworth come to us, confused about the driver's licensing process in LA County. It's really a simple process once the steps are clearly laid out. Here are the general steps one should take to earn a license in the San Fernando Valley:
Sign up for our Low Cost drivers education class sometime before you turn 15½
Pass our online program to earn a completion certificate for the Chatsworth DMV
Take and pass your test at the DMV to earn your learner permit
Take lessons with a local Chatsworth driving school and practice for 6 months with your permit
After 6 months of practice and when you are at least 16, go the DMV to pass your driving test.
Pass your drive test and go home with your provisional license
Simple Drivers Ed in Chatsworth
Why take a break from the traditional drivers ed classroom? Because no LA County teen wants to spend 30 hours in a dark, packed classroom listening to Billy Bob lecturing about road rules and watching driving school videos from 1970. With Drivers Ed Direct's Low Cost driving school program, you are allowed to take your drivers education course when you want to and where you want to. If you can get online in Chatsworth, then you can complete our course with ease. All chapters are informational, engaging, and well organized. You're in total control and can complete the course at your own pace, login and out when you choose.

Low Cost Drivers Ed - Approved For all of Chatsworth
Get the best drivers education in the San Fernando Valley from the leader in approved online drivers education: Drivers Ed Direct. Our 30-hour program is Chatsworth DMV approved for all students in LA County. Get online at home, from a coffee shop, or from your school's computer lab. Now proudly teaching kids from Chatsworth Senior High School, Los Angeles Educational Achievement Partnership High School, Sierra Canyon, Chatsworth Hills Academy or Ark Christian Academy.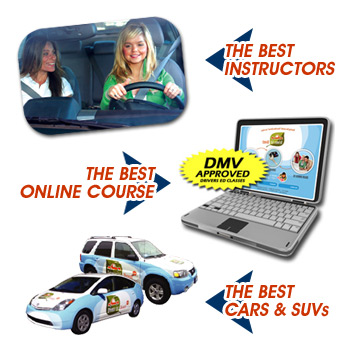 Highest Rated Driving School in Chatsworth
Before taking the California DMV drive test, teens (under the age of 18) must pass a drivers education course, pass a drivers permit written exam (to obtain a drivers permit), have their permit for the minimum of 6 months, complete a minimum of 6 hours of drivers training with a licensed school and complete 50 hours of driving time (10 of those must be night time driving) with a parent or guardian over the age of 25. Drivers Ed Direct provides an online drivers education course and behind the wheel drivers training for Chatsworth teens. Our online course is available throughout all of California and our drivers training is available in the San Fernando Valley. Many of our students are referred to us from Chatsworth Senior High School, Los Angeles Educational Achievement Partnership High School, Sierra Canyon, Chatsworth Hills Academy or Ark Christian Academy students and live throughout Chatsworth, Granada Hills, Northridge, West Hills, Woodland Hills, Reseda, North Hills, and Tarzana.
Driving Instruction from the Best
One advantage of the Drivers Ed Direct driving school is that we give you the opportunity to choose your instructor. With over 25 qualified and friendly, male and female instructors to choose from, you're sure to find more than a few that you like. With whatever you decide, all of our instructors are highly qualified to teach your teen the proper rules for driving in California. Your teen can learn how to drive in all types of situations and during different hours of the day or night in the San Fernando Valley. Our aim is to make sure your needs are met and if you request to learn how to , we work towards getting that done along with everything else you need to know in order to drive.
---
Chatsworth Traffic Tickets
Pulled over in LA County for speeding? Don't pay your ticket without going to traffic school first! TrafficSchool.com, the San Fernando Valley's leading traffic school, can help you save your driving record by eliminating the negligent operator points from your driving record. So give TrafficSchool.com a try and avoid any costly increases in your auto insurance premiums.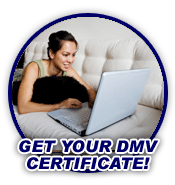 Chatsworth High School Driving Resources Online

Looking for an online driving guide to help you navigate the roadways in LA County? DrivingLinks.com has a plethora of online resources for the Chatsworth driver, both young and old. Teens can benefit from the online driving handbooks, drivers ed resources, and driving games. Mature drivers can find online traffic schools, defensive driving classes, and printable DMV forms. Get help with all things driving at DrivingLinks.com.
Need Drivers Ed, But Not a resident of the San Fernando Valley?
Drivers Ed Direct is not only the top driving school in the San Fernando Valley, we are a highly respected driving school across all of California and have even garnered national media attention on such shows as The Tonight Show, Dr. Phil, Jimmy Kimmel, and NBC news. No matter where you live in the state of California, you can enroll in our Low Cost drivers ed and know you are getting the same quality education as all of our students, even those living outside of Chatsworth. Our goal is to save the world, one new driver at a time... including you!